Tuesday, 26 May 2020 15:06
Nairobi water shortage to continue
By: Standard Media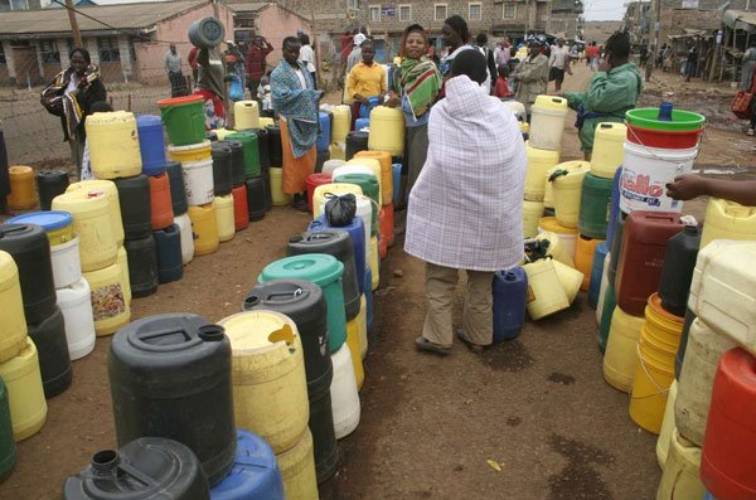 Residents lining up to get water from water vendors. [Photo: Courtesy]
NairobiSome parts of Nairobi city will continue experiencing water shortage after 600 metres of the main pipeline that supplies water was damaged.
Some parts of Nairobi city will continue experiencing water shortage after 600 metres of the main pipeline that supplies water from Sasumua dam to Nairobi was damaged last night. According to the Nairobi city water and sewerage company limited, a massive landslide occurred at Kieni Forest within the Aberdare Forest causing the unprecedented damage. Some of the estates that will be affected by the damage on the Sasumua water supply system include; areas along Waiyaki Way, Naivasha road, Kangemi, Lavington, Westlands, Parklands, M.P.Shah Hospital, Agha Khan Hospital and ILRI. Upper hill, four kilometers west of the central business district will also be affected with estates as Nairobi Hospital, Kenyatta National Hospital and Community suffering most.University of Nairobi main campus hall of residence, Upper and Lower Kabete campus, University of Nairobi and Kenyatta University Parklands law campuses will also face the shortage.
SEE ALSO: List of areas in Nairobi set experience water shortage
Along Kenyatta market estates like, Kibera, Langata, Jamhuri, Ngando, Riruta/Satelite, Dagoretti Corner, Kawangware and areas along Langata, Madaraka Estate, Mbagathi and Ngong roads, Karen have not been left behind. Furthermore, Loresho, Nyari, Kitisuru, estates along Peponi Road, New Muthaiga and Thigiri ridge areas will also face the acute water shortage. "The amount of water not reaching Nairobi is 61,000m3 per day (12 per cent of the city supply) hence the above areas will receive water with low pressure during the supply day under the water rationing programme," reads the statement. According to the water company, the Ministry of Water, Sanitation and Irrigation, Athi Water Works Development Agency (AWWDA) and Nairobi City Water & Sewerage Company Ltd (NCWSC) have already mobilized Engineers to rectify the situation. "The repairs are in progress and it is expected that by 31st May, 2020 the temporary reinstatement works will be completed. This will lead to resumption of water supply to the City from Sasumua Dam before permanent works are completed," says the Managing Director, Nahashon Muguna.
SEE ALSO: Massive erosion threatens to wipe out entire village
The water system from Sasamua dam has faced damages in the last couple of months this being the third time due to landslides in the area. According to the company, the works require re-routing of the pipeline to avoid recurring damages of the pipeline in the current route. The new route will involve laying of 3.5Km water pipeline and will take 6 weeks at an estimated cost of Sh362million. Sasamua Dam is not the only water system affected by the ongoing heavy rains, the supply of water to the City from Ngethu Water Treatment plant has also been frequently interrupted by the high turbidity and the blockage of the intake along Chania River. According to the statement, rains have subsided in the Aberdare Ranges and now Ngethu Water Treatment Works is back to full capacity and water supply in the Central Business District. Estates along Thika/ Outer Ring rd., Mombasa rd., Kangundo rd., Kiambu rd. and the vast Eastern part of the City is back to normal.
SEE ALSO: Sonko now recalls Bill meant to fund metropolis services
Towns whose water catchment areas lie in the Aberdare forests like Thika, Gatundu, Limuru and Ruiru have also been interrupted due to blockage of the intakes and high turbidity during the heavy long rains experienced in the country. This comes at a time when other parts of Nairobi County have been facing water shortages due to various reasons. Slums of Mukuru Kwa Reuben, Mathare and Kibra being affected by the occurrence and residents now forced to buy water from vendors. "We have not received water for the past two weeks. We are therefore unable to maintain the level of cleanliness required of by the Ministry of Health to keep Covid-19 at bay. We do not know what to do next," says Alice Atieno, a resident in Umoja Estate in Nairobi. "We now buy water from vendors who draw it from boreholes and other places we don't know about. We are now living in danger of contracting something bigger than Coronavirus," adds Judith Jahenda a green grocer in Nairobi. Maintaining cleanliness in such affected areas becomes a daunting task but according to the Water service providers Association, such occurrences are at times brought about by the residents.
SEE ALSO: Nairobi gets new deputy police commander as 60 officers retire
"People have not been paying water bills after the Coronavirus pandemic. Thus we have had a shortage of over Sh1 billion to run our operations. Tomorrow, it will not be an issue of water shortage but total lack of the basic commodity," says Antony Ambugo, the Chief Executive Officer, Water Services Providers Association (WASPA) Nairobi city water and Sewerage Company limited is now calling upon residents within Nairobi County to us the available water sparingly.
Read more https://www.standardmedia.co.ke/article/2001372812/nairobi-water-shortage-to-continue