Tuesday, 26 May 2020 14:30
Three Tanzanians arrested and quarantined in Homa Bay
By: Standard Media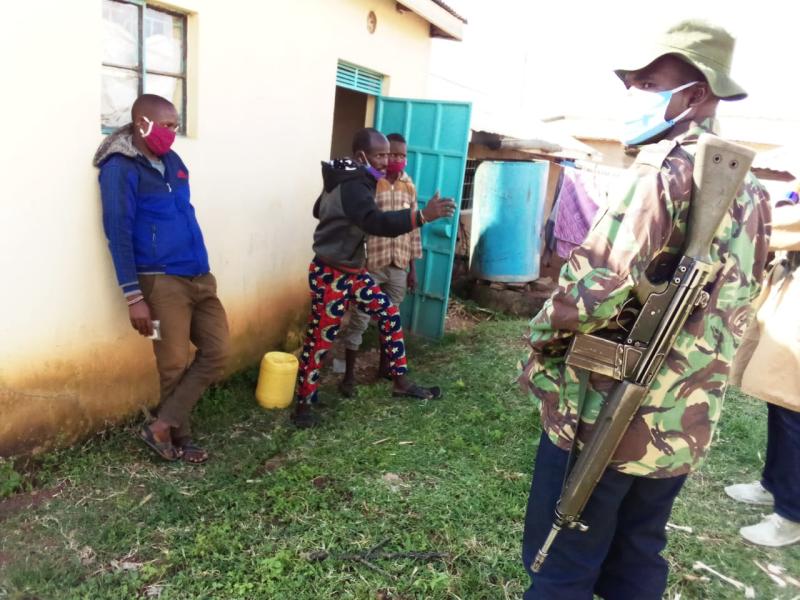 The three Tanzanians were arrested at California trading center, South Kagan Location in Rangwe Sub county on May 25, 2020. [James Omoro, Standard]
NyanzaThe arrest came after concerned residents raised an alarm over their presence in the area.
A Tanzanian citizen escaped while his three colleagues were arrested and quarantined after sneaking into Homa Bay County. The man disappeared when he was being interrogated alongside his three colleagues by South Kagan Location Chief Sospeter Oyugi at California trading center in Rangwe Sub county on Monday. The foreigner pretended to be making a phone call and escaped through the backdoor. "I could not leave the three men to look for the missing one because police had not arrived," Oyugi said.
SEE ALSO: UK Covid-19 death toll tops 47,000 as pressure heaps on PM Johnson
The man who disappeared and another one identified as Paulo Lazaro,40, used to live in the trading center where they were hawking goods such as shoes. But they went back to Tanzania three months ago and returned on Monday with two other men identified as Koikai Ndari, 55, and Orboh Salon, 50. Lazaro, Ndari and Salon were arrested upon police's arrival. The arrest came after concerned residents raised an alarm over their presence in the area. Rangwe Sub-county Police Commander Jane Sang' said the three men lacked national identity cards. Instead they had voter's cards from Tanzania.
SEE ALSO: Impact of COVID-19 on sports events around the world
"The three had only voter's cards instead of their national identity cards. We have interrogated them and ascertained that they are Tanzanians," Sang' said. The suspects were taken to the quarantine center at Homa Bay KMTC over suspicion that they might have been infected with coronavirus. "We could not allow them to continue staying with residents. We have taken them to the quarantine center," Ms Sang' said. The police boss urged residents to report those people who visit the area from risky counties or foreign countries to enhance the fight against coronavirus. "I urge residents not to fear reporting visitors either to police or chief to enable us fight spread of coronavirus effectively," she added.
Read more https://www.standardmedia.co.ke/article/2001372799/three-tanzanians-arrested-and-quarantined-in-homa-bay